Best Halloween Costumes For Girls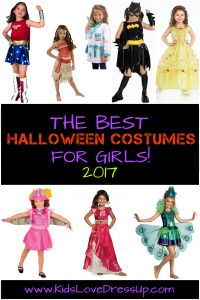 What are the
best Halloween costumes for girls
? We've done some digging and have come up with a list of 10 of the most popular, highest rated, and generally most awesome costumes for girls to share with you today!
It's so much fun to find "just the right costume" for Halloween. Whether your girl is into princesses or superheroines, career dress up or animal costumes, whether she is obsessed by the "name brand characters" or doesn't even know them yet (or care), there's something here for everyone!  It's my hope that this list will be helpful for you Moms to get you started (and maybe finished with) The Big Choice.  Have fun browsing!
(As an Amazon Associate I may earn a small commission from qualifying purchases made through links on this page, at no additional cost to you. Full Disclosure.)
The Best Halloween Costumes For Girls 
Disney Moana Girls Adventure Outfit
Depending on where you're located, this costume might be a bit too cool for Trick or Treating this year, but you can't NOT have this awesome Moana costume on a list of the best Halloween costumes for girls in 2017! Moana, the daring, adventurous, and compassionate girl who saves her island from the mysterious darkness… no doubt the girl you're shopping for would love a wild adventure too! In this costume, she can feel like she's right there!
Rated 4.4 / 5 stars by over 265 reviewers
Super DC Heroes Wonder Woman Child's Costume – by Rubie's
Wonder Woman is big this year for girls, as far as Halloween costumes and girls dress up clothes go! Why leave all the saving-the-world fun to the boys? She can dress up in style in this awesome, patriotic costume!
Check out this and a slew of other awesome costumes on our Superhero Costumes For Girls page!
Rate 4.1 / 5 stars by over 865 reviewers!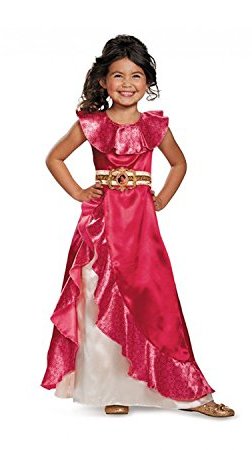 Elena of Avalor Adventure Gown – Disney
Princess Elena of Avalor, the feisty, strong-willed, creative girl who saves her kingdom in the Disney show "Elena of Avalor"… she's one popular princess in the Dress Up / Costumes world! No wonder – her gowns are stunning! The bright red and gold, the Spanish flair – this is a seriously pretty costume gown for any girl!
See more Elena gown options at "The Ultimate Princess Elena of Avalor Costume Collection for Girls"
Rate 4 / 5 stars by over 135 reviewers!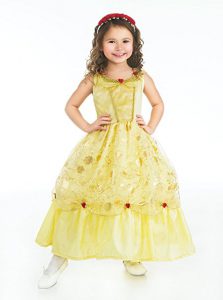 Princess Belle Costume – by Little Adventures
Beauty and the Beast is a classic that little girls everywhere have fallen in love with – from the 1991 animated Disney film to the new live action release just this past year. The songs, the story, the DRESS!!! This yellow princess gown will have your own little Belle feeling like a true beauty.  Little Adventures gowns are great quality, easy for kids to take off and on, and believe it or not, comfy! Worth a look for sure.
See more options like this at "Beauty and the Beast Costumes For Kids"
Currently rated 4.6 / 5 stars by over 185 reviewers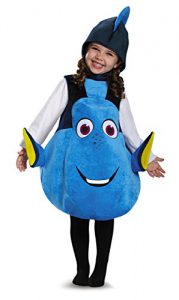 Disney's Finding Dory Deluxe Costume for Kids
Ok, how ADORABLE is this 3D plush Dory costume? Your girl will love dressing up as the forgetful fish who finds her family and identity at last in the feature film "Finding Dory". Personally I think this costume is one of the best Halloween costumes for girls this year pretty much because who wouldn't be smiling seeing a little girl in THIS costume at their door? Love it! 🙂
Rated 4.6 / 5 stars currently
PAW Patrol Skye Costume – by Rubie's
Skye, the high flying female pup in the PAW Patrol, is a favorite for many little girls – and this adorable "winged" pink Skye dress up costume will be fun on Halloween AND for many months afterward for dress up play! Comes with the dress, headpiece, and pup-pack! "This Pup's Gotta Fly!"
** See also "The Best PAW Patrol Costumes for Kids" for other ideas**
Rated 4.3 / 5 stars by over 150 reviewers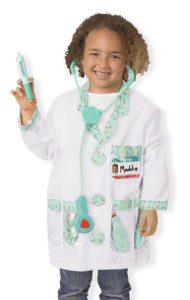 Doctor Role Play Costume Set – by Melissa and Doug
Playing doctor is a staple childhood game, and this costume role play set is a fantastic prop for it! With all of the important accessories and the iconic white lab coat, your little girl will be ready for her next patient… AND trick or treating!
We own this exact set… it's amazing. See our review here.
Rated 4.7 / 5 stars by over 645 reviewers.
Girls Sequins Little Mermaid Costume & Accessories – by ReliBeauty
Mermaids are always popular with girls… and THIS costume is the highest rated and most popular one on Amazon these days. (Check out the customer pics in the review section by clicking on the image to the left – it's adorable!) Whether your girl wants to be Princess Ariel from The Little Mermaid or another one, this costume will do the trick nicely.
Love the mermaid idea? See also "7 Gorgeous Mermaid Costumes For Girls That You Don't Want To Miss" for more options.
Rated 4.6 / 5 stars by over 285 reviewers
DC Super Heroes Child's Batgirl Costume
Have a Batman fan in your house? One of the best Halloween costumes for girls is one that she feels confident in, looks great in, and has fun in – and this Batgirl costume is exactly that! It's just what she needs to Trick or Treat in style… and stay ready to beat the "bad guys" and "save the world"!
**See also "The Best Batman Costumes For Kids" for other Batgirl costumes**
Rated 4.6 / 5 stars by over 290 reviewers
This is a stunning costume! If your girl wants a statement costume, one that gets her a lot of oohs and ahhs, you HAVE to check out this one! The headpiece, dress, and tail-feathers (attached by the wrist) area all included (not the shoes, unfortunately) – and it's available in Small, Medium, and Large.
Rated 4.1 / 5 stars by over 450 reviewers
---
And there we have it! 10 fantastic costumes for girls – each will be an awesome choice, each comes at a surprisingly good price! Thanks for taking a look… I love having people drop by my website (it's so fun to work on it) – drop me a line to say hi, and tell me what YOUR favorite Halloween costumes for girls are this year! Did I nail these choices? Or am I missing something important?
Cheers!
Marlaine
Have a boy you're shopping for too? Check this out: