The Ultimate Princess Elena of Avalor Costume Collection!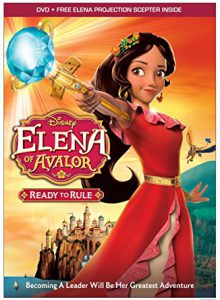 Princess Elena of Avalor is the "new beauty in town" these days, and little girls can't get enough of her! They want to dress up in an Elena of Avalor Costume and pretend that they ARE her, having a blast saving their own kingdom!
It's no wonder! She's feisty, she's creative, she's strong-willed, she has an interesting story… and she wears GORGEOUS gowns!!
Elena's signature red gowns are at the same time both fun and bold – eye-catching, really! And I must say, I don't know which dress style I prefer more… her "Adventure Dress" and her "Royal Ball Gown" are both stunning!  It would be hard for any girl to pick which Elena of Avalor Costume they'd rather dress up in!
That being said… there ARE many dress options for girls who want to dress up like Princess Elena of Avalor!  This page is "The Ultimate Collection" of Elena of Avalor Costume options for your little Princess. Below are 11 different Elena dress up gowns to pick from. Enjoy!! 🙂
[The links will take you to Amazon.com, where you can find out more about each dress.  Amazon has the best prices for kids costumes, easy returns and customer service, and usually, free shipping options.  As an Amazon Associate I may earn a small commission from qualifying purchases made through links on this page, at no additional cost to you. Full Disclosure.]
Very Quickly, First… Who is Elena of Avalor?
This short trailer video clip might help those of you who have never heard of Disney's newest Princess! Enjoy!
Plot, per Wikipedia:  Teenage princess Elena Castillo Flores[9] has saved her magical kingdom of Avalor from an evil sorceress and must now learn to rule as its crown princess. Elena's adventures will lead her to understand that her new role requires thoughtfulness, resilience and compassion, the traits of all truly great leaders. Since she is only 16, she has a Grand Council composed of her grandparents, older cousin Chancellor Esteban and a new friend, Naomi, to give advice along the way. Elena also looks to her younger sister Isabel, her friends, wizard Mateo and Royal Guard lieutenant Gabe, a spirit animal named Zuzo, and a trio of magical flying creatures called Jaquins (a race of winged jaguars) for guidance and support.
Now, the Ultimate Collection!
11 Elena of Avalor Costume Options… That Are All Gorgeous.
11 Different Princess Elena of Avalor gowns. If you're trying to pick just one out today for your little Princess lover, you're going to have a tough time… they are a pretty beautiful set of dress up gowns!  So…  which will you (your daughter/grand-daughter, I mean), like best? Take a look! 🙂
---
Elena of Avalor Costume – Adventure Dress
Elena of Avalor Classic "Adventure" Dress
Classic Ball Gown – Elena of Avalor Disney Costume
Made by:  Disguise
Price:  $
Reviewer Average Rating: 

4.7/5 stars

  (357 reviewers)
Sizes Available: XS/3T-4T,   S/4-6x,   M/7-8($$)
Details: Elena's beautiful, shimmering ball gown. Shoes not included. Belt is adjustable somewhat (2 Velcro location closures) but for skinnier children you can add extra Velcro closures quite easily.
Deluxe Elena of Avalor Ball Gown Costume
Disney Princess Elena Girls Dress Up Costume
Girls' Elena of Avalor Role Play Dress
Elena Royal Ball Gown – Music & Light Up Dress
Elena of Avalor Official Disney Store Costume
Disney Girls' Elena of Avalor Deluxe Costume
Disney Collection Elena of Avalor Costume Dress
Elena Of Avalor Inspired Dress
---
So, which one(s) do you like best? Is your daughter a big fan of the newest Disney Princess? Can you picture her having a great time dressed up as Princess Elena of Avalor?  Chat with me all about it in the comments below! I look forward to connecting!
Cheers,
Marlaine
Elena of Avalor Costume Accessories!
---
Love this collection? Pin THIS!