12 Amazing DIY Dress Up Storage Solutions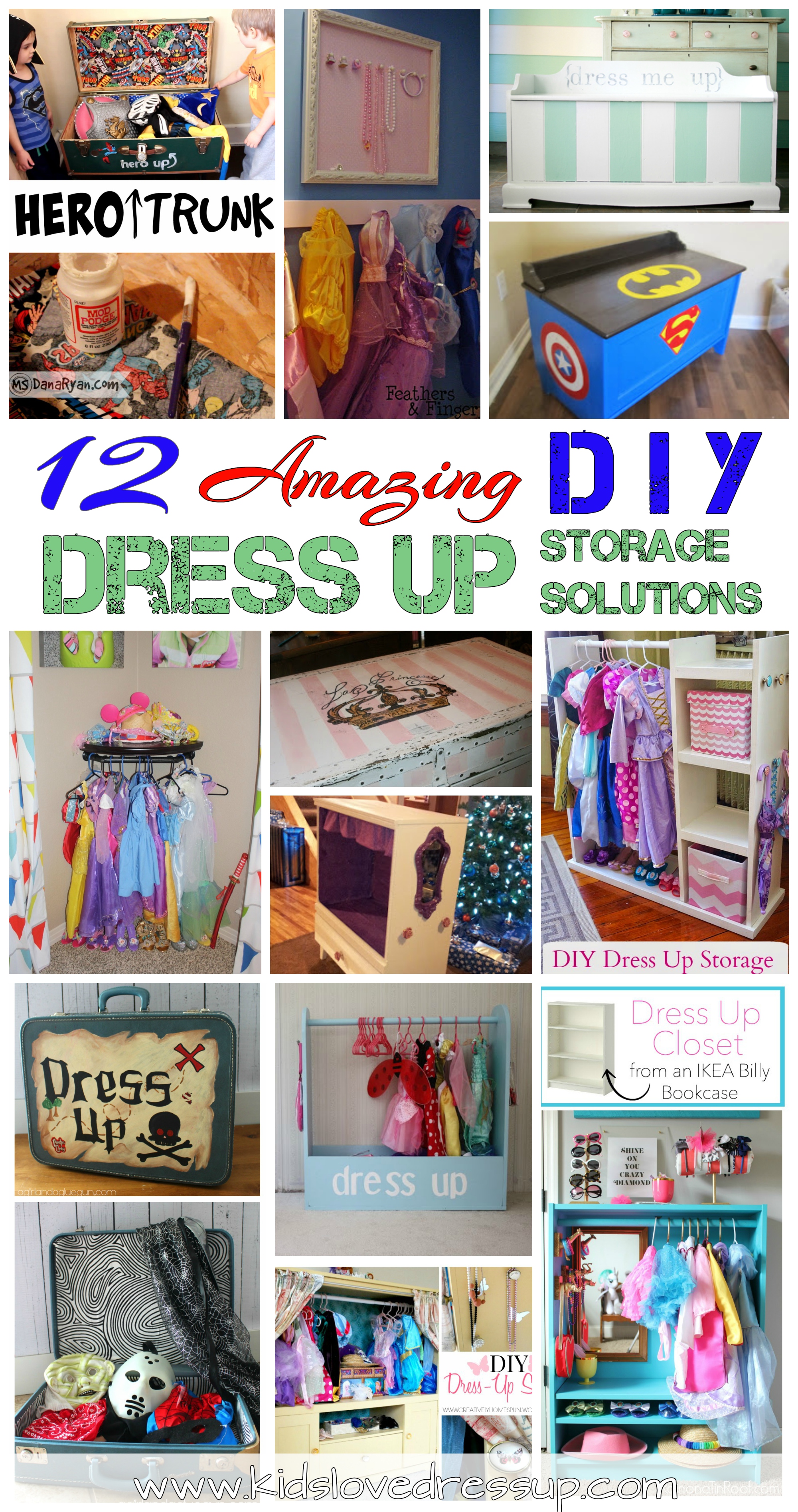 When you have children who love dressing up, it's pretty crazy just how fast their dress up collection grows. If you don't have a plan… a dress up storage solution, you'll have a huge mess on your hands pretty much all the time.
You can purchase something already made, but if you have a bit of time and some creativity, you can make a DIY dress up storage solution that in my opinion knocks the purchased ones out of the park.
Here's a compilation of 12 awesome DIY dress up storage ideas from blogs around the net. Check them out!
(As an Amazon Associate I may earn a small commission from qualifying purchases made through links on this page, at no additional cost to you. Full Disclosure.)
DIY Dress Up Trunk #1 – Hero-Up Trunk!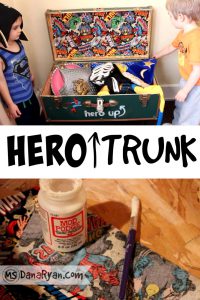 Boys need dress up trunks too – and a super cool DIY Hero-Up themed dress up chest like the one made by Dana on
www.danaryan.com
is one that they'll love!  Isn't it amazing? An old storage trunk, some modpodge, and some material… incredible! Check out her video tutorial and make some yourself!
DIY Dress Up Trunk #2  – An Old Army Chest
Some people are AMAZING at DIY's and creating beauty out of old stuff… like Jana did on here at
Collected Treasures
. She transformed an old army chest into a stunning Princess Trunk! So impressive!
DIY Dress Up Trunk #3 – An Old Suitcase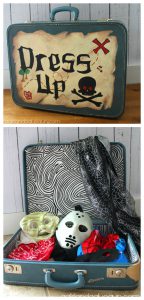 This is one amazing upcycled travel trunk! Kimbo from
A Girl And A Glue Gun
took a thrift store find and turned it into a fabulous dress up trunk for her little guy. Amazing stuff!
DIY Dress Up Storage Corner Solution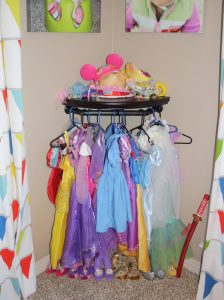 This corner solution to the dress up chaos was DIY'd by Ashley at
Robustorbust
. What a great way to turn an awkward corner into a fantastic dress up area! Instructions available on her post.
DIY Dress Up Storage Bench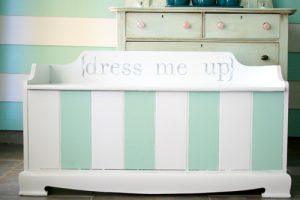 How's this for a child's play room? I love this calm and classy bench turned dress up storage solution I found at
The Handmade Home.
 I bet it can hold a TON of dress up gear! 🙂
DIY Dress Up Wall with Jewelry Organizer!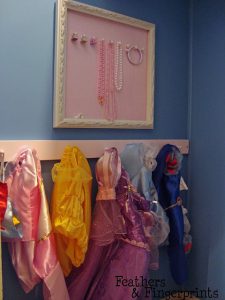 This DIY wall hanger and awesome jewelry board for girls was made by Katie at Feathers and Fingerprints. I think hanging things up on peg is awesome for young kids… much easier than hangers!
DIY Dress Up Storage: Simple, But Effective!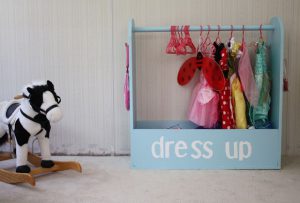 This one is from Craftiness Is Not Optional. Check it out! So I'm not crafty… or too much of a DIYer myself usually, but I think I could totally make this one!! With my husband's help. 😉
I love the "big box to hide all of the stuff that falls off the hangers" and shoes and other accessories! Dress up storage does NOT have to be complicated or full of impressive details to be effective… just straight forward neat and tidy will make the playroom neat and tidy too!
DIY Dress Up Closet – from an IKEA Billy Bookcase!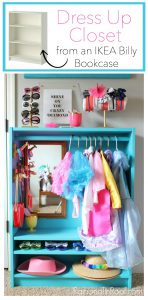 Ok, you hackers… this post by Jenna at
Rain On A Tin Roof
 is pretty inspiring! Who says you have to spend a lot to get a great looking and super functional dress up station? A visit to IKEA (scratch and dent section first, of course!), so paint, a dowl, some funky hooks… and some helpful instructions (check out her post) and your little Princess (or Superhero- it doesn't have to always be about the girlies, right?) will be thrilled!  Zoom in to see the fabulous animal-head necklace holders… very cool!
DIY Superhero Trunk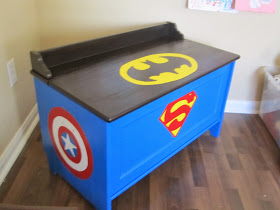 Can you imagine how happy the little boys were whose Mom transformed their wooden toy box into a fabulous Superhero costumes trunk while they were away for a weekend?? Taking a simple wooden box and adding some paint color and logos… check it out at When The Boys Sleep. What a great idea!
DIY Dress Up Center from a Wardrobe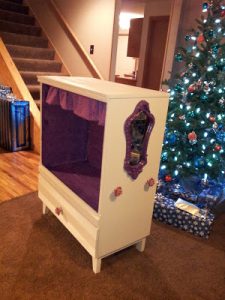 An ugly old wardrobe gets turned into the cutest white and purple girly DIY Dress Up Center by Delaney on
Adventures of a Crafty Wife
. That ornate purple mirror on the side is my favorite part, I think… isn't it fun? Check out her tutorial.
DIY Princess Dress Up Wardrobe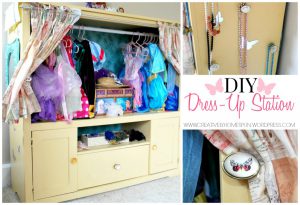 I enjoyed reading about Danielle's DIY Makeover on
Creatively Homespun
 where she and her husband up-cycled an old entertainment stand into a fabulous Princess Station for their birthday girl! I love the awesome details… the hide-away curtains, the funky side mirrors, the pull out drawers for accessories. Talk about a dress up station fit for a Princess!
DIY Dress Up Storage Centers:  Beauty In The Details!

I love this one from Old House To New Home . Costumes are colorful and fun… the dress up storage center can be too, with just a few simple accessories like fun knobs and boxes! Amanda's post explains how they DIY'd a dress up storage center for their girls, customizing and making it fit just right for their girls.  It turned out beautifully!  Take a look!
---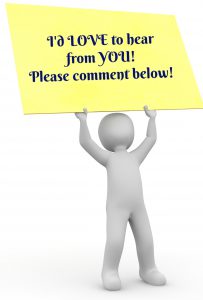 What do you think? Which one is your favorite? Have you been inspired to create a DIY storage solution of your own? Please comment below!
Cheers!
Marlaine