KidKraft Dress Up Unit Product Review: The Good And The Not-So-Good Stuff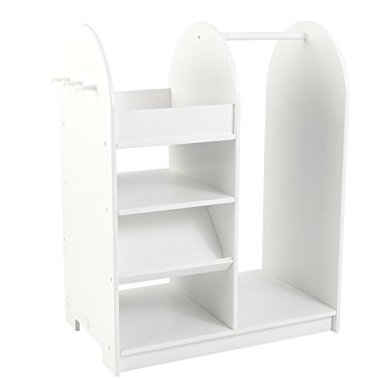 If you're getting tired of the mess that your children's dress up clothes and accessories are making in the playroom or in their bedrooms, perhaps its time to find a solution to that problem.  Something that will organize their costumes and gear in a fun and easy way, make it appealing for playing, but still be, well… practical.  Is the KidKraft Dress Up Unit your answer? Find out in this product review.
If you're been following our series on the Top 12 kids dress up storage units, you'll know that there are many cute and practical dress up storage unit options available – today we'll be taking a good look at the KidKraft Dress Up Unit (with the white version also known in stores as the "Let's Play Dress Up Unit", and the pink version as the "KidKraft Fashion Pretend Play Station".
In this review, we'll talk about the product specs, the pros and cons of this unit compared to others, talk about customer reviews (spoiler alert… there are a whole bunch of negatives that all discuss one certain issue). By the end of the review, it's my hope that you'll be able to decide if the Kidkraft Dress Up Unit is the right one for your child's needs, or if you should take a look at another.
(As an Amazon Associate I may earn a small commission from qualifying purchases made through links on this page, at no additional cost to you. Full Disclosure.)
How The KidKraft Dress Up Unit Works
The KidKraft Dress Up Unit is a piece of child-sized furniture that is meant to be used as both a storage and a display piece for kids costumes and dress up accessories such as shoes, hats, and the like. There is an acrylic mirror attached to one side, three pegs for hanging gear on the other, shelve units for shoes and accessories, and a rod for hanging dresses or costumes.
Size, Assembled: 26.6″ L x 15.8″ W x 39.4″ H   (Note: see below "What Others Think")
Weight, Assembled: 48 lbs
Best Price: Amazon.com
Recommended Age:  3 and up
Materials: MDF
What is Included: Mirrored Side, Wooden Rod, Shelves, Pegs
Available Colors: White and Pink
My Personal Reflections On The KidKraft Dress Up Storage Unit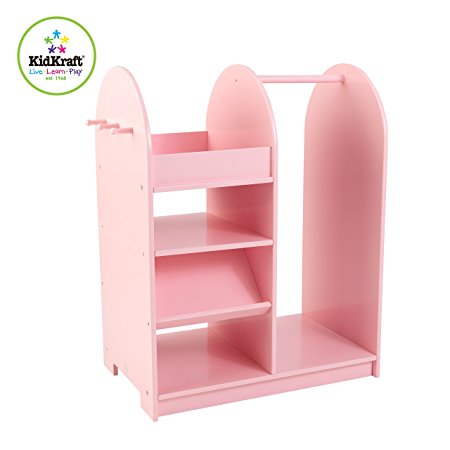 While reviewing this unit, I hunted around online looking for various sites that list the KidKraft Dress Up Unit on them, and read through reviews – especially the Q&A sections.  My general impression is that it's an easy to put together, cute unit. Even when the purchaser wasn't impressed with the size (see next section), the kids loved it and played happily with it.
I'm a mom of a 4 year old girl and a 2 year old boy – and both of them have several costumes that they like playing with. Their joint collection grows at a surprising rate, I'm finding. This particular dress up storage unit doesn't seem like it would even come close to fitting all of their dress up costumes hanging on the rod, even squished in, and I'm guessing their collection will only be growing from here on out. I'm thinking that if you buy this based on fitting in what you CURRENTLY have, you're going to run out of room very fast… dress up collections seem to explode, whether you like it or not. (Sometimes a favorite few hanging up and the rest in a dress up trunk stored elsewhere and rotating them for the "newness" factor is a good solution if you don't want a large piece of furniture though.)
What Others Think About The KidKraft Dress Up Unit
The KidKraft dress up unit customers say that it's ADORABLE, that the (acrylic) mirror was better than expected, and that it was EASY to assemble by just one person, and that is was very sturdy! Many happy little girls playing dress up with this unit. 🙂
HOWEVER:  One of the biggest complaints when reading through the "critical reviews" scattered throughout the over 100 customer reviews (many positive) on Amazon, as well as others on Walmart's site and more, was that the item they received wasn't what they expected. They were satisfied with the quality, but found it was much smaller than expected and didn't look the same as the one in the review pictures from other customers.  After doing some searching around, I found a comment thread dated Dec 2016 that explains this:  There were two models – the older, discontinued model was the taller one, the newer one is the smaller one. 
The sizes I listed above are the official specs for the item as listed on Amazon, Walmart, and other sites. From what it sounds like, however, the 39.4″ model is the OLD model. Some recipients seem to still be receiving this model (back stock, perhaps?) but more and more customers in the very recent reviews note it being really, really small (approx. 31″… which is about 2 1/2 feet – not very high).  So, big heads up there – this is NOT a large item!
What Are The Pros and Cons?
Pros
Bright and cheery unit (white or pink)
Kids can easily reach all items… meaning also be able to easily put AWAY all items after play!
The smaller footprint is good for smaller playrooms
Kids love looking in the (non-breakable) mirror at themselves in costume
Well constructed by a reputable kids furniture company
Cons
This is a SMALL unit – meaning your child will likely outgrow it very quickly
It will likely not be able to hold all of your child's dress up collection (or, the costumes of only 1 child, not those of siblings together)
Conclusion
Currently on Amazon, this product is rated 4.1 / 5 stars average by over 400 reviewers. The pink unit is slightly lower with less reviewers.  Personally, I'd give this unit no more than 3 / 5 stars.  I think there are much better units for your money that can a) hold more costumes and gear, and b) be used much longer or by older children. The size factor, as well as the fact that you don't REALLY know what size unit you'll be getting (the big one, as listed in the specs, or the smaller one, that reviewers claim to have received)… make the KidKraft Dress Up Unit one I'd probably pass on by, myself.
Which ones do I recommend?  If you have the space, I'd recommend you check out the Guidecraft Dress Up Storage Center. If space is an issue, check out these swivel vanities  (both links are to product reviews).
Where to Buy the KidKraft Dress Up Unit
The Kidkraft Dress Up Unit (the "Let's Play Dress Up Unit") is a popular item, sold often, and with also a lot of positive reviews by happy customers. It's a great unit for little ones, so if you're looking for a unit that's good for young toddlers, I'd recommend you take a look yourself!
---
As always, please let me know if you have any questions about or comments on this review, or if you have a personal review to share, I'd love to hear it! Comment below and I'll get back to you quickly!
Cheers,
Marlaine